Home
You can't reach the pinnacle of success by doing everything yourself.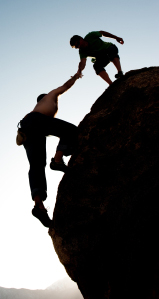 As a holistic nutrition coach/practitioner or lifestyle fitness provider, you do important work. Every session you host, every program you develop, every product you offer to your clients changes lives.
You're making a real difference in the world, but imagine what you could do if you could remove yourself from the role of business manager and truly focus on building your business by developing more programs, focusing on your big picture plan and dramatically changing the health and in turn, lives, of those you serve!
Because you're a people person and thrive on working closely with others, helping them on their wellness journey, this is what you really want to be doing but it's difficult (if not impossible) to set aside time to focus when you're juggling the regular daily operations of your business.
If you're a six-figure-(or more) earning practitioner or wellness business owner, you may have a team of assistants or even virtual assistants working with you at the moment, helping out with administrative tasks. But, how much of your time is being spent fielding questions, delegating tasks and managing operations?
Sometimes hiring a Virtual Assistant doesn't free up as much time as one thinks it will. If you're spending any significant part of your day managing a team of assistants while juggling daily operations, it's a real drain of your energy and quite frankly, a waste of your time. You need to find a solution to this problem now because the longer you wait, the more valuable time and money you're losing.
Fire yourself and hire an Online Business Manager
As a Certified Online Business Manager with a genuine passion for the health and wellness industry, I will come into your business and handle everything you shouldn't be doing.
If you have Virtual Assistants working with you, I will field their questions and ensure tasks are delegated to the right person.
I'll implement processes and systems to keep operations streamlined and efficient.
I'll monitor projects and ensure anything nearing completion gets finished.
I'll be the buffer between you and all of your daily distractions.
I will help you find the balance and sense of well-being you bring to your clients.
If you offer quality programs, products and services of true value, then you're in line with my own values. I would love to help you help others (and yourself at the same time!) and I promise I'll treat your business as if it were my own.
Contact me today for a no-obligation consultation so I can talk to you more about what my role as Online Business Manager will bring to your practice. In the meantime, you can read more about me and the administrative and business management services I offer. But I'd prefer to talk on the phone so we can find out if we have the chemistry needed for this type of arrangement. I look forward to hearing from you.